Cape Design Engineering Co. (CDE) is a Florida corporation, licensed by the State as an engineering services and construction company. It is owned and operated by two of the company's founders, Lutfi M. Mized, P.E. and Kannan Rengarajan, P.E. Incorporated in 1997, it operates as a full-service, multi-discipline engineering and construction firm. The company has earned a reputation as an exceptionally dynamic engineering group in the Central Florida/Space Coast region. Our primary office is in Merritt Island, Florida but the company has worked extensively throughout the state of Florida as well as the Southeastern U.S. and overseas. To supplement needs in other areas, CDE engineers also hold a number of licenses in other various states, including Georgia, Colorado, North Carolina, South Carolina, Virginia, West Virginia, Kentucky, and Tennessee. CDE employees are highly-trained, proficient, and effective. It is our goal to keep all staff members knowledgeable of advances and changes in the engineering world by means of continuing education via seminars, classes, and professional society memberships. Every year we require that each staff engineer take at least 20 hours of continuing education classes to better serve themselves and, more importantly, our clients.
CDE has a deep-rooted history in the Space Program. Most of our engineers have been involved in the designs of critical launch systems and facilities for NASA and USAF rocketry programs, most of which are still in use today. In addition to the space industry, we are a well known commercial and industrial engineering firm. Our team has successfully designed numerous commercial, industrial, educational, medical, institutional, military, and government facilities for an ever-growing list of clients.
CDE is a Woman Owned Business Enterprise (WOBE).  For those who are looking for Cape Design Engineering's NAICS codes, please click here.
If you have any questions, or would like to see what CDE can offer you, please take a look at the different services our company offers or feel free to contact us with any questions you may have.
Kannan Rengarajan, P.E.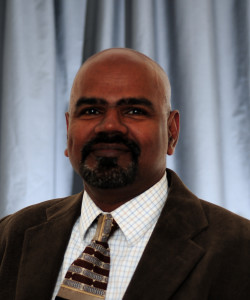 Mr. Rengarajan is one of the founders of CDE and currently serves as the C.E.O. as well as a Senior Mechanical Engineer.  Mr. Rengarajan has over 30 years of multi-disciplinary engineering project management and mechanical engineering experience including HVAC systems, plumbing, and energy efficiency designs .  
Lutfi Mized, P.E.
Mr. Mized is one of the founders of CDE and currently serves as company President as well as Senior Structural Engineer.  Mr. Mized has over 32 years of multi-disciplinary engineering project management and structural engineering experience using steel, concrete, pre-cast, and timber materials.